Archivnummer
BAS 4515
Most Knybawa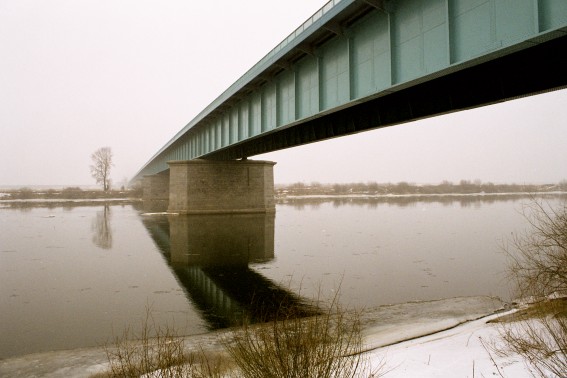 Bild-ID: 6874
Fotograf: wowa44 ( www.vistulabridges.com )


Fotonutzung ?
Region:
Wojwodschaft Pommern/Województwo pomorskie
Fluss/Tal:
Weichsel, Wisła, Vistula
Baujahr:
1942, Wiederaufbau 1950
Details:
Entwernung zum Meer: 37 km,
Info von wowa44:
47. The Knybawa Bridge is the only built during WWII, and was opened in 1942. Though it is neither the longest one (982 m) nor the widest one (18.6 m), it looks very impressive. Moreover, it is a rare example of a bridge which is definitely underused and has been designed for much heavier traffic on the anticipated Berlin - Konigsberg highway. The bridge could easily accommodate 2 lanes in each direction. Especially the eastern bridgehead looks impressive; it was designed to accommodate heavy anti-aircraft cannons. One can see the city of Tczew/Dirschau and the old city bridge there. The distance between the Knibawa Bridge and the Grudziadz Bridge is the longest one between two neighbouring bridges on Vistula and stands at 62 km (straight line).
Lageplan
Breitengrad, Längengrad: 54.0525350000, 18.8144300000