Archivnummer
BAS 4516
Grudzíadz Most (Graudenz)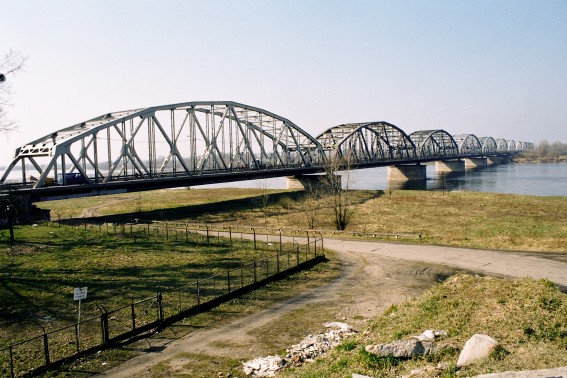 Bild-ID: 6838
Fotograf: wowa44 ( www.vistulabridges.com )


Fotonutzung ?
Region:
Swiecie / Grudziadz
Stadt:
Rudziadz, Graudenz
Fluss/Tal:
Weichsel, Wisla, Vistula
Brückentyp:
Bogenbrücke, Bogen über der Fahrbahn,Fachwerkbrücke
Baujahr:
1879, Wiederaufbau 1950
Details:
Entfernung zum Meer: 99,
Info von wowa44:
46. The Grudziadz Bridge is also among my favourites. Built in 1879, it is the second oldest Vistula bridge; destroyed during WWII, it was re-built rather than built anew in 1950. It is also the second longest one (1098 m) and stands on 11 pillars. Width 14.6 m, is one of 3 Vistula bridges accommodating both cars and trains. Huge framework give the bridge an "armoured" look. Is not located on any major road, though links the city of Grudziadz/Graudenz with the key A1 road; could also be used for some rather specific long-distance transit. Despite this seemingly not very important location, the traffic is quite significant. Nice views on the Grudziadz old town and the old Vistula granaries. The bridge is in the historical Pomerania district.
Lageplan
Breitengrad, Längengrad: 53.4845216667, 18.7364950000