Archivnummer
BAS 4536
Chelmno most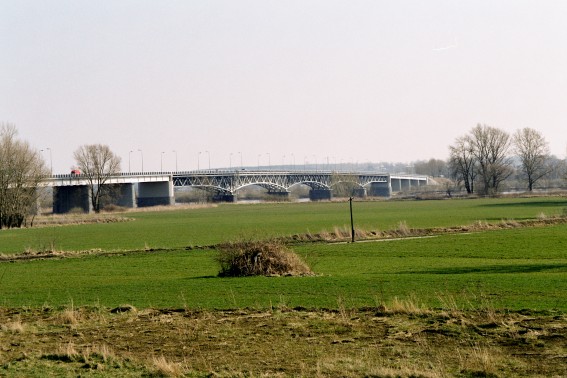 Bild-ID: 6839
Fotograf: wowa44 ( www.vistulabridges.com )


Fotonutzung ?
Stadt:
Chelmno (Kulm), Swiecie
Fluss/Tal:
Weichsel, Wisla, Vistula
Brückentyp:
Bogenbrücke, Bogen unter der Fahrbahn, Fachwerkbrücke
Details:
Info von wowa44:
45. The Chelmno Bridge was opened in 1963. Alike the Torun Bridge and the New Czechowice Bridge, it is located on the Road no. 1, leading from the Baltic coast to the Czech border. Great views on the medieval town of Chelmno/Kulm, towering over the neighbourhood from the nearby hill. The bridge itself is among the longest ones (1062 m) and stands on 19 pillars. Width 14 m. Traffic tends to be rather dense, either long-distance transit or the local one. Spans over the flood areas on both banks and spans over the water have a different construction. I think the bridge is still in the historical Kujawy region, though I might be challenged on this.
Lageplan
Breitengrad, Längengrad: 53.3689900000, 18.4285350000