Archivnummer
BAS 4537
Bydgoszcz Most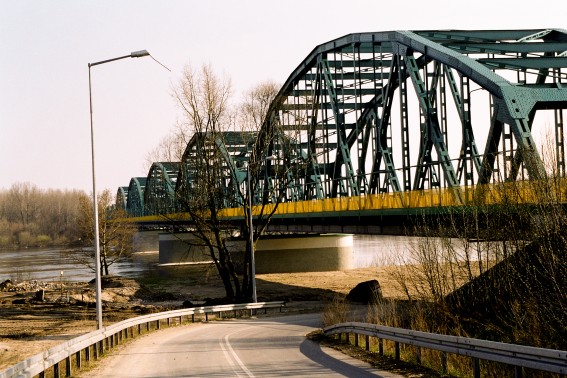 Bild-ID: 6840
Fotograf: wowa44 ( www.vistulabridges.com )


Fotonutzung ?
Region:
Kujawsko-Pomorskie
Stadt:
Bydgoszcz (Bromberg), Toruri
Fluss/Tal:
Weichsel, Wisla, Vistula
Brückentyp:
Bogenbrücke, Bogen über der Fahrbahn, Fachwerkbrücke
Baujahr:
1893, Neubau 1956
Details:
Info von wowa44:
44. The Fordon Bridge is located in the somewhat remote quarter of Bydgoszcz, Fordon. It is the third oldest bridge on Vistula, opened in 1893 (reconstructed in 1956). Construction located on the main road leading from Warsaw to the western Baltic coast attracts some transit traffic, but serves mostly as a direct link between the cities of Torun and Bydgoszcz. Located outside Bydgoszcz, barely used for urban commuting. It used to be the longest Vistula bridge ever, going for 1392 metres; during the post-WWII reconstruction the embankment was prolonged and the bridge itself shortened to 996 m. Stands on 12 pillars; 5 western spans are visibly longer than the rest, resulting in 5 western frameworks being considerably larger than the other ones. On the width of 13.8 there is also the railroad track. The Fordon Bridge is the Westernmost Vistula bridge. Rather uninteresting views on the local suburbia.
Lageplan
Breitengrad, Längengrad: 53.1440016667, 18.1716000000