Archivnummer
BAS 4538
Most Józefa Piłsudskiego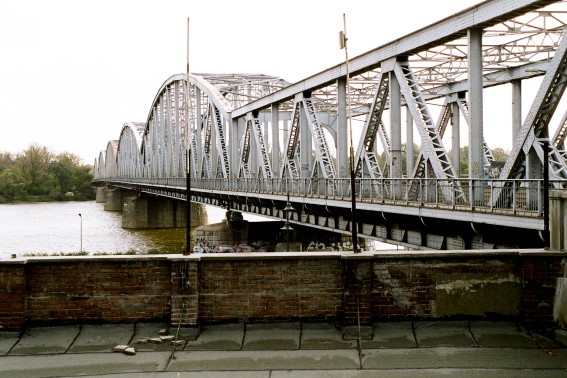 Bild-ID: 6841
Fotograf: wowa44 ( www.vistulabridges.com )


Fotonutzung ?
Region:
Województwo kujawsko-pomorskie/Wojwodschaft Kujawien-Pommern
Stadt:
Toruń/Toruri/Thorn
Fluss/Tal:
Weichsel, Wisła, Vistula
Brückentyp:
Fachwerkbrücke
Details:
Info von wowa44:
43. The Torun City Bridge is definitely my beloved Vistula bridge: when I was a child I crossed it so often that now when I hear "a bridge" I see the Torun Bridge. I think you will also agree this is an imposing, beautiful construction. Its history is an interesting one: after 1919, the Prussian railway bridge in Opalenie near Kwidzyn/Marienwerder became a bridge leading to nowhere, standing on the Polish/German border. It was dismantled and re-assembled in Torun in 1934. Initially it was 884 m long; during the reconstruction after WWII damages it was prolonged to 1004 m. Stands in the midst of the city and attracts heavy local traffic, but also passenger transit on the main Polish North-South road. 9 pillars, great view on the medieval city of Torun/Thorn. Like one of the Cracow bridges, named after Marshall Pilsudski.
Lageplan
Breitengrad, Längengrad: 53.0065716667, 18.6012266667