Archivnummer
BAS 4539
Czerniewice Most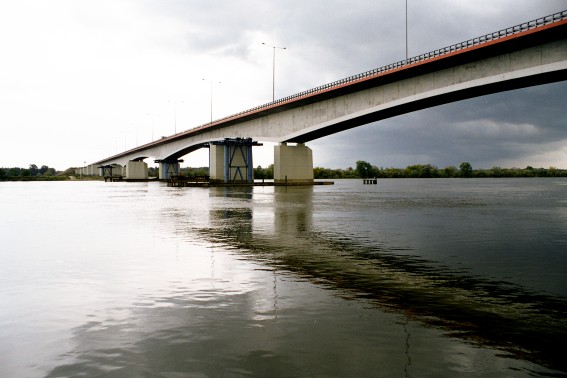 Bild-ID: 6842
Fotograf: wowa44 ( www.vistulabridges.com )


Fotonutzung ?
Region:
Kujawsko-Pomorskie
Fluss/Tal:
Weichsel, Wisla, Vistula
Brückentyp:
Bogenbrücke, Bogen unter der Fahrbahn
Details:
Info von wowa44:
42. The Czerniewice Bridge, built in 1998, is supposed to stand on the North-South highway, cutting Poland in two pieces; no-one knows when this is going to happen. Currently it forms part of the Road No.1 from the seaside to the Czech border, which unfortunately is very distant from the highway reality. Attracts mostly heavy national transit; passenger cars prefer to go via the city of Torun, which is visible from the bridge. The bridge is still under construction; another line of pillars is already built, what is missing is the carrying construction. When completed, the bridge will probably carry 3 lanes in every direction. The traffic is surprisingly limited as for such a major road. The bridge is named after Armia Krajowa, the Polish underground forces fighting Germans during WWII. Lentgh of the bridge 950 m.
Lageplan
Breitengrad, Längengrad: 53.0049450000, 18.6020416667