Archivnummer
BAS 4545
Most Generala Stefana Grota-Roweckiego / Wisla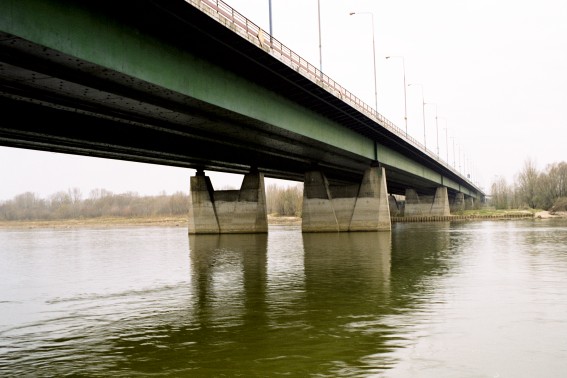 Bild-ID: 6848
Fotograf: wowa44 ( www.vistulabridges.com )


Fotonutzung ?
Stadt:
Warszawa, Warschau
Lage:
im Norden der Stadt, nahe der Stadtgrenze
Fluss/Tal:
Weichsel, Wisla, Vistula
Brückentyp:
Balkenbrücke mit Trägerrost und 2 Überbauten sowie 6 Feldern
Details:
Info von wowa44:
35. The Warsaw Grota-Roweckiego Bridge is named after the commander of the Polish underground army, captured and killed by the Germans. The bridge forms part of the AK Route, one of the most convenients troughways across Warsaw, and was opened in 1981. In terms of traffic intensity second after the Lazienkowski Bridge, tends to get jammed during rush hours: the west-leading lanes in the morning, the east-leading lanes in the afternoon. Length 645 m, width 40 m (actually, two 18-m units sharing the same pillars, separated by the 4-m space). Just 4 pillars, out of them only one stands in the river itself. Rather ugly surroudings, as the bridge stands far from the city centre and offers a view on the nearby thermal power plant in the Zeran district.
Lageplan
Breitengrad, Längengrad: 52.2872850000, 20.9953866667