Archivnummer
BAS 4548
Most Ksiecia Josefa Poniattowskiego / Wisla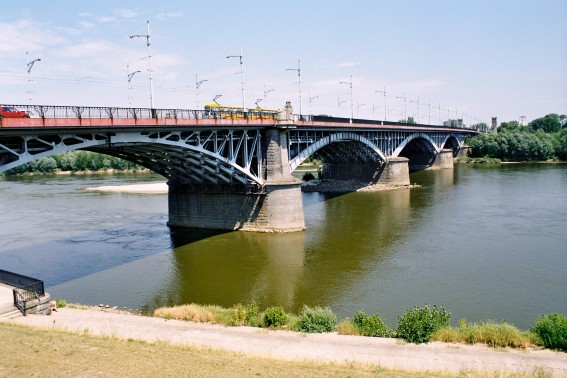 Bild-ID: 6877
Fotograf: wowa44 ( www.vistulabridges.com )


Fotonutzung ?
Stadt:
Warszawa, Warschau
Lage:
im östlichen Zentrum der Hauptstadt
Fluss/Tal:
Weichsel, Wisla, Vistula und ul. Wioslaska
Brückentyp:
Segmentbogenbrücke unter der Fahrbahn mit Fachwerkausfachung, 7 Felder
Baujahr:
1913, Neubau 1946
Details:
Info von wowa44:
31. The Warsaw Poniatowski Bridge was opened in 1913 as at that time the third road bridge in Warsaw. It is the only one re-constructed, so it can be considered the oldest existing Warsaw bridge. Somewhat odd architectonically. On 24.4. width it accommodates also the tram track, which is separated from the road deck; this in turn renders the bridge dangerous when the road gets slippery during the frost. If excluding trestles, it is the second longest Warsaw bridge (600 m). There is a complex system of underground and overground passages for pedestrians below the bridge. Serves mostly local purposes, which makes the traffic congested, but relieves it from jams caused by transit cars. Interesting city panorama from the deck. Aborted negotiations between the rebel forces and government tropps took place here during the Pilsudski's coup d'etat in 1926.
Lageplan
Breitengrad, Längengrad: 52.2360116667, 21.0411783333