Archivnummer
BAS 4561
Kotlarski Most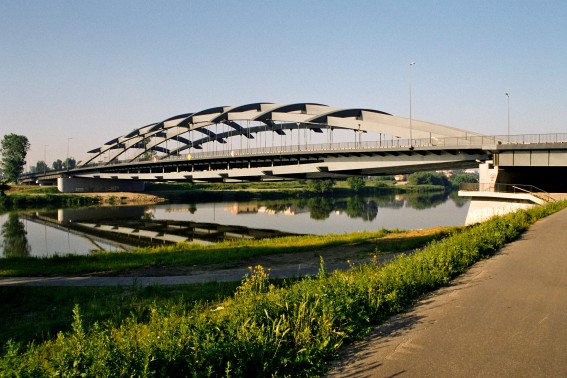 Bild-ID: 6860
Fotograf: wowa44 ( www.vistulabridges.com )


Fotonutzung ?
Fluss/Tal:
Weichsel, Wisla, Vistula
Brückentyp:
Bogenbrücke, Bogen über der Fahrbahn
Details:
Info von wowa44:
16. The Cracow Kotlarski Bridge takes name after the nearby Kotlary district and is one of the most memorable constructions over Vistula, hardly to be confused with another bridge. Opened 2002, length 166 m. The road network on the right bank is still obscure and the landscape there looks rather like a moon surface; the old and rather neglected quarter is being totally re-organised. The Kotlarski Bridge is the second widest one over Vistula, inferior only to the Warsaw Grot Rowecki Bridge. The view from the bridge is not a tourist attaction - an industrial and post-industrial areas spread around. Personally, I consider the Kotlarski Bridge one of the most beautiful Vistula bridges built after WWII.
Lageplan
Breitengrad, Längengrad: 50.0524816667, 19.9608700000